On behalf of the staff at Eaton Animal Den, we are honored to pay respect to our beloved animal friends who have passed. We also welcome you to create a lasting tribute for your beloved pet or animal friend on our website's Pet Memorial page. Please feel free to complete the following Pet Memorial Form in Adobe Acrobat format, which requires the free Acrobat Reader to view.
Download & Print Questionnaire
---
Following are some of our friends that we have lost. We are so glad they were a part of our lives, and Animal Den would not have been the same without them! We cherish the time that we had, and know that they are in a better place now...
Piggy Krause was the cutest little bulldog! Always loved to get love, and always gave it back freely! Although she had a difficult life medically, you never would have known it by her personality! She was so lucky to have the family that she did - she will be in all of our hearts forever! We love you, Piggy!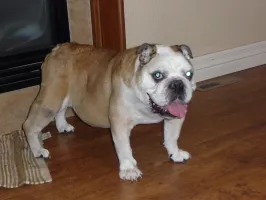 Maximus was a big part of Animal Den, from the very beginning in 2005! During his stays at our facility, he would always let us know when it was time to play! He loved rope toys the most, but would play with any toy we made available, barking at us when we were not paying quite enough attention to him. He loved to be around other dogs and our staff.
We all will miss his smile, his attitude, and his swagger...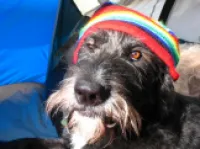 Brenna was a love of ours that took care of her owners! The dog park was a favorite of hers, as well as camping, swimming, and of course, hanging out with mom and dad on the couch. We are so sad that she has left us so young, but so glad that she was saved by a family that gave her a very fullfilling and love-filled life.
Bear was an amazing Rottie through and through. He was one the gentlest giants we have come across. Near the end he had a lot of medical issues going on, but he could not have asked for better owners to care for and love him as much as they do! Bear had two Rottie sisters, Nakita and Izzy, who miss him as well as his two-legged family me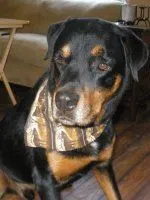 mbers. We miss you dearly Bear!!
"We want to thank all the staff and friends at the Animal Den for their unsurpassed care for Bear in his last month. Bear was a special rottie and we miss him still but knowing the care he received made it a little easier to say good bye when the time came. We are truly blessed to have you in our (and our animals) lives."
Thank you again; John, Amy & Shjon Mosser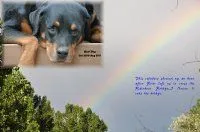 (Pictured at the right is a Rainbow that appeared the day the Mosser family had to say goodbye to their beloved Bear. We all believe this is Bear's Rainbow Bridge!)
Miss Blondie is at peace now, she put up quite the fight against her cancer. Although her original prognosis was grim, she made it a year past what they thought she would. We all miss her very dearly, Gina and her most definitely became part of the EAD family. She was the sweetest little girl and was always glad to see everyone here at the Den!! You will never be forgotten, Blondie!