I have had the incredible pleasure of getting to know the staff at EAD and having them as my vet for my 3 sweet animals. Even though I've moved over 9 hours away, I'm still planning on bringing all 3 pets back just to get vet care from EAD. Especially since I adopted my sweet dog from their adoption program - easily the best decision of my life (don't tell my husband).
---
The staff is the most caring, intellectual and passionate group of animal lovers you will meet. What is so special about EAD is that they will always tell you what's best for your pet. Always. They work tirelessly to get answers, whether that's running blood tests or calling specialists to ask questions about YOUR pet and getting them back to health because they know pets are family.
---
Katie Perkins

They are continuously growing, expanding and changing to ensure they are caring for pets in the best way and making clients happy - I have never met a group like this one and that's why I will continue to come to EAD no matter where I live. Thank you for everything, EAD!

---
Diesel, now Hooch, who was with us at the clinic for approximately two and a half years, finally has a wonderful home! His parents fell in love with him, and even their bird likes to try to play with him. He is spoiled rotten, which he deserves, and looks like he has already gotten used to the easy life. We are all so very happy for you, Hooch!!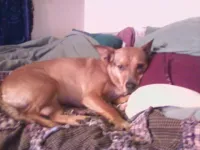 Jayne
was adopted to a great home, and has been doing fabulous! She likes to steal her mom's shoes and hide them so she can't leave to go to work. Good job, Jayne!! She loves to lay in pillows, and proof of that is here, forwarded from her mom...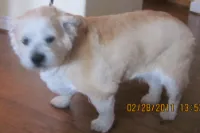 Angie, now Peggy Sue, has a fabulous home and gets multiple walks every day! She now has a beautiful waistline, and seems to love her mom very much!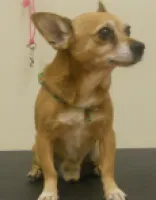 Cowboy went home with his new family on Saturday. The great part about this story is that his new family is Arlo's family! We adopted Arlo a couple of months ago, and the family saw Cowboy's picture and couldn't resisit! I hope you are the great snuggler you were at Animal Den, Cowboy!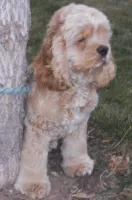 Hootie, now Bailey, has been adopted to a wonderful family - on Christmas Eve! We are lucky enough to see him occasionally when his parents go out of town, and he still loves to play with every dog we put him in day care with!
An update on Shaggy - our cute Brussels Griffon we adopted to a home recently. This is a note from Shaggy's (now Arlo) mom:
"Just a little update on "Shaggy". His new name is Arlo which he took to and learned the very first day. He is having fun with his new best dog friend, Sophie, and gets along with all the cats. Arlo has learned to sit, lay down, shake, turn in a circle and loves playing fetch which he does frequently during the day, interspersed with naps. He fits perfectly into the family and we are very happy to have him! Thank you all for giving him a safe place while he waited for his forever family."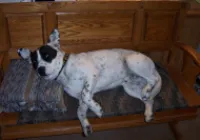 Another success story - our cute Jesse. Gets to socialize at the dog park, and is a member of the family! He always had the cutest smile - like he was always happy to see you! Now, he gets his own sofa and his own family to love him!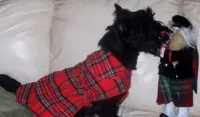 Monte was our Scotland Terrier who just loved to prance around the other dogs and play, play, play! Lucky for him, he found a house with two other dogs, and the playing never stops!
Sinatra was our very vocal cat that was such a lover at the clinic! He now has a great home, and has his very own deck to lay out on in the sun! Sinatra, now Blue, loves to lay on his dad's lap and has definitely turned into a daddy's boy! Have fun in the sun, Blue!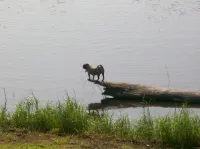 Hayden, our little pug, found a wonderful home with two labs! Although the smaller of the bunch, she is the ruler of the roost for sure! She not only keeps the other dogs in line, but chases off the geese that hang out in the lake behind her home. This is Hayden on her perch...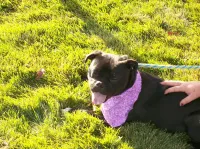 Cassie was our BIG pug mix, that found a loving home almost a year ago! Mom just e-mailed us to let us know they completed genetic testing on her and found out she is Mastiff and Pug! What a strange combination... but explains a lot! She is enjoying all of the other dogs she gets to play with, and is a very happy girl!.
Angel found a wonderful family! She not only has kids to play with but also three dogs, which see loves! We are so happy for her AND the family that gave her a permanent home!